Crawlspace Supports
Smart Jack™ - Crawl Space Stabilizer
Product List
The Foundation Supportworks™, Inc. Smart Jack™ is a supplemental support system for crawl space applications. The Smart Jack™ effectively supports sagging beams and floor joists caused by:
length of span greater than spanning capability of the members,
floor load added after construction, exceeding design values, and
weakening of members over time due to high moisture and rot.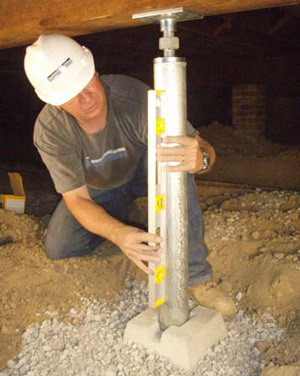 The Smart Jack™ may also be used as a supplemental column support where an existing column and pier foundation has settled.
Allowable Capacity
The allowable system capacity of the assembled Smart Jack™ steel components is 30 kips (30,000 pounds). Axial compression tests completed at an independent laboratory on the assembled Smart Jack™ system, with and without a precast concrete footing, resulted in ultimate values between 56 kips and 90 kips.
While the rigidity and strength of the Smart Jack™ components benefit installation and overall product stability, the allowable load applied to the Smart Jack™ system will nearly always be limited by the bearing capacity of the existing soil.
The well-compacted crushed stone or recycled concrete base is a proven method to increase support for the higher bearing pressure condition immediately below the concrete footing, and then to absorb and distribute lower pressures to the existing soils.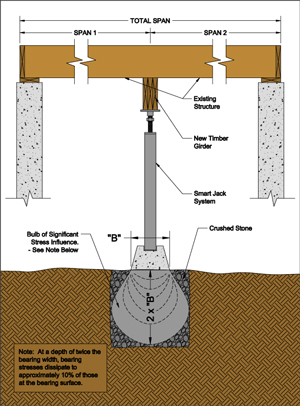 Should settlement of the Smart Jack™ system occur, adjustments are made easily by extending the all-thread rod.
The Smart Jack™ is designed to support axial compression loads only. The Smart Jack™ should not be used in applications where the system is intended to resist lateral loads.
Corrosion Protection
The tube steel used for the Smart Jack™ is manufactured with a triple-layer, in-line galvanized coating. This coating process consists of: (1) a uniform hot-dip zinc galvanizing layer; (2) an intermediate conversion coating to inhibit the formation of white rust and enhance corrosion resistance; and (3) a clear organic top coating to further enhance appearance and durability. The inside of the pier tube also has a zinc-rich coating.
The remaining steel components of the Smart Jack™; i.e., SJ350TP, SJ125ATR, SJ350TI, and SJ350BP come standard as zinc-plated in accordance with ASTM B633, "Standard Specification for Electrodeposited Coatings of Zinc on Iron and Steel".
Design Guide
Step 1 - Determine the load which will be supported by the Girder in pounds per linear foot: Girder Load (plf) = (Span 1 (ft) + Span 2 (ft)) x Floor Load (psf) ÷ 2
Note 1: Typical residential wood-framed construction may have an approximate floor load (dead load + live load) = 55 psf
Note 2: This equation assumes a floor system which does not support any load bearing walls or columns.
Step 2 - Determine the load on the Smart Jacks™ by multiplying the calculated Girder Load (plf) by the spacing of the Smart Jacks™:
Smart Jack™ Load (lbs) = Girder Load (plf) x Smart Jack™ Spacing (ft)
Step 3 - Verify that the calculated Smart Jack™ load is less than the allowable capacity provided by the well-compacted crushed stone base and the bearing soils.
Note 3: Without a detailed soil investigation, typical installations should assume no more than 1,500 psf allowable soil bearing pressure. This would equate to an allowable soil capacity of 6,000 lbs for a 2'x2' poured concrete footing or a 2' cube of well-compacted crushed stone. Extremely soft soils may prohibit the use of a crushed stone base or require that a larger poured concrete footing be utilized.
Step 4 - Size the new girder by entering the table below with both the Smart Jack™ Spacing (ft) and the calculated Girder Load (plf). Choose a girder that has an Allowable Load (plf) greater than the calculated Girder Load (plf).
Girder Size

Girder Allowable Load (plf)

4 ft

5 ft

6 ft

7 ft

8 ft

Smart Jack™ Spacing

(3) – 2x8

1,170

750

520

380

290

(3) – 2x10

1,760

1,120

780

570

440

(3) – 2x12

2,360

1,510

1,050

770

590

(1) – 4 x 6

850

550

380

280

210

(1) – 6 x 6

1,030

660

460

330

250

Note 4: Table assumes Douglas Fir Larch – No. 2 or better
Step 5 - If the required girder size is undesirable, adjust spacing of the Smart Jacks™ and return to Step 2.